Our DNA
UPWARD CREATIVE is a direct-approach search firm exclusively dedicated to the Creative fields covering Design, Image, Product, Marketing & Communication management roles.
A "niche" positioning which allows us to guaranty the excellence of execution expected at this level, offering « sur-mesure » and agile recruitment solutions adapted to the reality and expectations of Fashion, Luxury, Beauty and Lifestyle players globally.
When Global Executive-Search best-practices meet start-up culture.
UPWARD CREATIVE demonstrates an exclusive positioning thanks to the trustful relationship we have maintained through the years with creative key talents in France and abroad.
Constantly on the watch, creative and out-of-the-box thinkers, we conduct daily exploratory interviews, portfolio reviews, on-site visits and are also honored to participate to some prestigious fashion schools jury's.
Always aiming to be a step ahead, and passionate about our work, we enjoy discovering new and upcoming talents as well as helping our clients find the best possible game changer for any of their creative hiring needs.

Vannina's interview in the Luxury issue of Capital magazine
As an expert in the recruitment of Top creative talents for many years, Vannina Beretti was interviewed by Capital magazine. It sheds light on the new challenges of recruiting an Artistic Direction for fashion houses.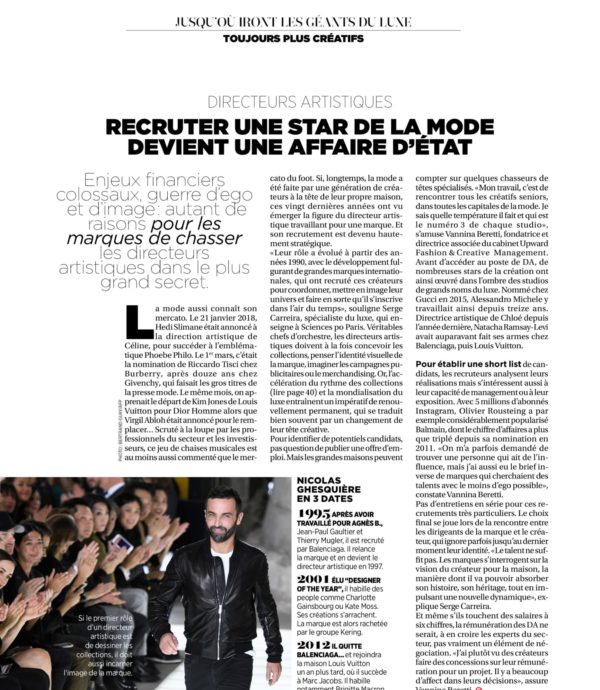 A Talent to recruit ?